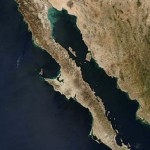 Just a look back at my final 12 months in Mexico. The Freedivers originally came to Mexico to Baja California in 2001 freediving was virtually unknown in Mexico except for a handful of spearos.
At first our students came from Europe and the UK, then from everywhere but Mexico but after a few months the word began to spread and 2 guys got in touch with us from Mexico city Armando Torres, a very talented surgeon and internationally known composer, we share a love of classical music and Luis Turrent a lawyer and perhaps Mexico's top spear fisherman. They did a course with us and in the following weeks we began to grow them, and they became close friends, with our help they founded AIDA Mexico. With further training they began to establish Mexican records and before long there was a Mexican national team that took part in the international competition in Cyprus. Armando and Luis were part of that team.
In 2005 we organised the first national competition probably one of the first triple depth competitions. It was the first competition for Manuel Gonzalez who became one of our permanent students and in 2007 he made a Mexican DNF record of 75 mts and in the same year did an easy 47mts Constant No Fins.
Teaching and coaching in Mexico had its own challenges, nearly all our students were Continued…