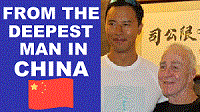 So this video came up nice, but caught me completely off guard. We were recording the RV videos, and after we've finished – I've been told that Aolin sent us a video talking about me. So what you see here is an unstaged, genuine reaction while viewing it for the first time. Hope you'll enjoy it. Aolin Wang is still (up to date) the deepest man in China. We've been working closely for the last four and a half years. And this video is his story about the equalisation journey to -113 meters depth.
SUBSCRIBE to my YouTube channel for interesting videos about freediving and more
Follow me on Instagram https://instagram.com/aharonsolomons.
Follow me on Twitter https://twitter.com/AharonSolomons
Like my page on Facebook https://www.facebook.com/Aharon-Solomons-Elite-Freedive-Training-151100215608/
Support me on Patreon! https://www.patreon.com/AharonSolomons Your support makes these videos possible.