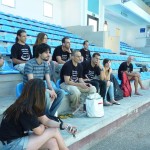 The Freedivers together with Mor Sherf organised a 2 day AIDA Israeli National pool competition . The first day was static in a pool in Kfar Shemariahu and the second day was Dynamic in Wingate.
The purpose of the competition was primarily to afford a chance for athletes wishing to accumulate points for selection for the national team competing in Nice at the international team competition in September. Also to afford a chance for comparative beginners to experience an AIDA competition.
Aharon and Mor were the organisers , Mor and Alon Rivkin were the judges , Alina Tsivkin did all the official videoing and kept the charts up to date. Under water videoing and photos were handled by Tom Peled , who produced superb images.
The results are as follows –
In the two days 5 National records were broken , congratulations and very well done.
Nir Fox – Static 6:27 and 160 mts DYN
Bebe Zachor Static 4:49 and 83 mts DNF
Lisa Yacubuk DYN 100mts
The competition was distinguished by not a single blackout ,yellow cards were few, but awarded for technical mistakes only. Well done all!
Thanks must be offered to the 2 sponsors Dugit and Sepa ,without whose help and commitiment to the sport in Israel the competition could not have taken place,we all wish to express our appreciation .