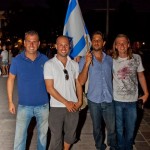 I first met Max and Shlomi training static in Manta's pool just before a meeting to discuss security for Alon's 100mts variable weight dive. We talked briefly there and they expressed a desire to do a few training sessions with me before going to the international competitions in Greece. We agreed to focus basically on tactics, and the mental and predive preparation. Both Shlomi and Max were new comers to freediving, Max had some equalisation issues to resolve to get to 50mts, and had just received his first monofin, so technique was also an issue. Shlomi was basically struggling with pacing; when to go into the glide, whether to go to a point of non deceleration and glide from lets say 35 mts or to do the 16 kicks 8 strong 8 with less force then a phase of kick and glide, then the pure glide.
Some of the issues were concerning speed and overall timing, and ascent to descent ratio and this was in part related to fin stiffness. Relaxation particularly in the glide was a major issue. Warm up procedures are related to spleen contractions, how many warm ups it takes before the spleen starts to contract and release a lot of red corpusles into the blood.
Training with Max and Shlomi was a joy. I have been around a long time and never encountered a potential like theirs, and my experience is world wide and to find this in Israel was totally not something I had expected.
In 2010 I did clinics for the elite divers in Israel and several impressed me with the potential we have here. Just to mention two –  Alon and Eran impressed me, Alon as a superb all rounder and also Eran who showed exeptional promise particularly in No Fins.
I want to offer my warmest congratulations to all the Israelis who took part in Kalamata. This was a Triumph beyond expectations, terrific National records:
 72 mts FIM Shlomi
71 mts CWT Eran
60 mts CNF Eran
Just to put this in perspective, Natalia Molchanova – the greatest female diver of all time (32 world records) holds the present world female record in CNF at 62 mts, only 2 mts more than Eran's National Record.
Max did a 50mt CWT and for a first competition with a new monofin this is a great dive. Max is a gentleman, he photoed and helped where ever possible his team mates, always putting their interests before his own.
This is a great triumph it has put the blue and white on the world freediving map. We will now build for the best team we can put up for the International Team competition next year in Nice, France.