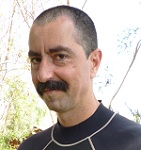 Walter Chivescu came to us on the 23 rd Nov for his second visit during his first visit he had achieved 46mts FIM. He had been plagued by equalisation problems since his first course in freediving .
Walter did our remote coaching program both before his first visit and before this one . He had achieved 6:06 Static and a breath walk of 2;15 after a 1;20 static hold . he had also been doing empty lung statics . So we knew his breath hold would not ever be in question for any realizable depth during this visit .
We spent the first 10 days basically ignoring depth and concentrated on empty lung and other equalisation exercises .We also worked on rhythm ,timing and technique.
The weather played intermittent tricks on us on us serving us up ridiculously strong currents that necessitated modifying our program .
Suddenly everything fell into place a week before he was due to leave . As I said the issue was never, on any dive, breath hold , also his thoracic flexibility was good. So we began depth training , with very few preparatory dives Walter did a ridiculously easy 50mt FIM dive needing only 1 recovery breath to complete a perfect surface protocol.
After the following day which was a rest day Walter did a 42 mt CWT dive in stero fins . The next day he wanted to attempt CNF for the first time –he did 3 dives 20mts, 18mts and 30mts .For a first attempt a stunning performance . The following day ,today , his last day he did and easy and very clean 35mts .
This was a great performance and one he can be justifiably proud of, Walter exceeded all his objectives and got 3 PBs to take home to Rumania where he will find his place among their best divers.
our warmest congratulations to Walter for a tremendous performance and well deserved triumph!