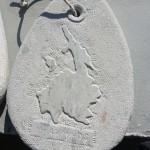 I had come across an article more than a year ago on Herbert Nitch's experiences in diving with the skandalopetra, culminating with his 107 mt world record. So I was pre-warned about some of the main challenges. The first was the cold, only a speedo was permitted for this discipline, there were thermoclines to deal with, and sudden cooooold!
I learned that breathe up was done on the surface in either a sitting, kneeling or standing position. This was the easy part, then one bends forward and dives into the water. My anxiety, at first, was would my noseclip come off in the plunge through the surface. This didn't happen, but in my first dive I dropped the stone on entry, luckly my handler (kolauzeris) detected this, stopped it's descent so I grabbed it again and continued my descent.
When one reaches the preselected depth your Handler waits a few seconds to allow one to grab the rope above the stone, standing on the stone holding the rope in a hydrodynamic position, he then pulls you back to the surface. If you need to abort a dive you merely jerk on the rope and he immediately pulls you back to the surface.
My second dive where I was less concerned about the entry and could concentrate more on the dive itself ended at 30 mts, at 28 mts there was a thermocline where the temperature dropped in a meter from 24°C degrees to 18°C. Suddenly no more equalisation!
My third dive was to 35 mts and although far from perfect, I felt I was beginning to understand, I accepted the cold welcomed it.
The first day was tough for Alina, too much too soon, she struggled with a noseclip that kept coming off on entry.
The second day was a kind of a break through for both of us. Alina had a break through where she was diving better than most of the men!
I had only 2 dives on the second day, on the first I was rudely jerked back to the surface by an Italian partner who thought he "felt something", probably didn't like geriatric diving! 🙂
My second dive to 36 mts, the bottom, taught me a lot. We had been told that in order to descend slowly, the stone weighs 14 kilos, to grab it by its forward edge, but normally to slow the descent in stead of holding the stone perpendicular to the bottom one tilts it. However this is only possible if one holds it in the middle. So the descent is very fast and allows no time for delayed equalisation, and you have to equalise fast. The second dive that day to 36mts was great except on the way up I saw my head had missed a rock shelf by a very few centimeters, such is diving without a mask or goggles as our ancestors did.
The third day began with Alina doing a perfect dive with a flawless entry. I then teamed up with Eugeny Boutov an old friend and a superb diver, it was his second year at skandalopetra. We each did a dive to the bottom on the other side of the raft to 45 mts. This we learned was the maximum depth in the waters around Kalymnos. I was a little bit disappointed as I wanted to dive 77mts as Haggi Statti had done. Maybe next year in a Skandalopetra event I am planning with Nikolas in Eilat.
All I was not dissapointed as in the article I read it had taken Herbert 4 days to pass 28mts before he got it and took off for the depths.
Never-the-less, the whole experience was great, being back in Greece, eating again in a Taverna the wonderfull Greek food. Meeting Greek divers like Dimitrios Chatzimentor, who had recently done 200mts DYN
and was a great help to us and a source of information and shared his DYN training program with me. And of course our friends from the Russian Team.
Hopefully next year in Eilat!